Best street food places in Varanasi for lip-smacking snacks
Varanasi is an old city located on the banks of the Ganga river in Uttar Pradesh. The city comes among one of the most popular cities of India famous for its street food. The street food of a city is an essential part of the culture and cuisine of that place especially when it comes to Varanasi. The city follows the Aryan culture because of which the majority of the people eat vegetarian food and hence there are only a few places where you can find meat or beef. The cuisine of Varanasi has also been influenced by the neighboring states of Bihar and West Bengal. The local people have given a twist to the food inspired by these states. A trip to Banaras is incomplete without enjoying the local food.
Varanasi is also known as Kashi or Banaras and is popular for its ghats and temples. Some of the best-known temples of Varanasi are Kashi Vishwanath Temple, Kaal Bhairav Mandir, Durga Kund Mandir, Maa Annapurna Mandir, Sankat Mochan Hanuman Mandir and
Vishalakshi Mandir. Other than its temples, the city is very well known for the lip-smacking snacks like kachori, lassi and chaat.
Here is a list of the top 10 places that offer delicious Banarasi dishes that will make you want to visit there:
Deena Chaat Bhandar
This food joint is a must-visit for those who love street food. They have one of the best chaats in the whole of Varanasi. Their tamatar chaat and Palak Chaat is very well known in the city. The spices and the chutneys used in the chaats give it an amazing taste that you will never forget. Other famous dishes of the Deena Chaat Bhandar are the Meethe Golgappe, Dahi Chutney Gol Gappe that use wafer thin gol gappas with all the spices and garnishings.
Address: Hanuman Mandir, Ramapura Luxa Rd, Luxa, Varanasi
The Ram Bhandar
It is a known fact that Banaras is famous for its tangy and crunchy kachoris. The Ram Bhandar in Varanasi has the most popular kachoris served with Aalo ki sabzi. The best thing is that they serve delicious jalebis in the end. Kachori sabzi is a popular breakfast item in most of the small cities especially Varanasi. Kachoris are of two types including the Badi Kachori and Choti Kachori. The Badi Kachori has a stuffing of a spicy mixture of lentils called Dal Ki Pithi, and the Choti Kachori has a stuffing of a spicy mixture of mashed potato. The aalo subzi has a tangy flavor and cloves, black pepper, green chilies, and dry red chilies are also added to the curry.
Address: C.K. 15/29 Katra Ratanlal, Thatheri Bazar, Govindpura, Varanasi
Baati Chokha
The Baati Chokha eating point serves the famous local dish, Litti Chokha and sattu parathas. Located on the Puran Das Road, this place garners large crowds every day. Their dals taste amazing and there is plenty of sitting space such as charpoys that give the place an authentic ambiance of UP and Bihar.
Baati Chokha is a dish of Bihar that has been introduced to the nearby regions as well and is a favorite snack in Varanasi.
Litties are whole wheat dough balls that have been stuffed with roasted chana dal and spices. These are roasted on charcoal and served after dipping it in desi ghee. Litties are served with Chokha which is basically a spicy mix consisting of boiled potatoes, tomato and eggplant.
Address: Aanand Mandir Cinema Hall, Raja Bazar Rd, Andhrapull, Teliyabag, Varanasi
Blue Lassi Shop
The Blue Lassi Shop is famous for its lassi in the city of Varanasi. During the hot summers, there are always huge crowds at the shop. There are a variety of lassis at this shop that you can choose from. The shop is three decades old and is located in the Kachori Gali Chowk. The famous Banarasi Thandai known for its refreshing taste is a beverage of Varanasi. The thandai is prepared from the puree of seasonal fruits and served in a kulhad. It is topped with flavourful Rabri, rose essence, ice- cream, dry fruits and nuts. Various condiments are added to the thandai to make it more refreshing such as fennel seeds, magaztari seeds, pepper, vetiver seeds, cardamom, and saffron.
On occasions like Holi, people even add a little bit of Bhang to their thandai. Bhang is a mixture of dried leaves and the buds of the female cannabis plant. Other famous places in Varanasi where you can get the best thandai include Baba Thandai and the Thandai Ghar located at the Godowlia Chowk in Varanasi.
Address: CK 12/1 Kunj Gali, Kachaudi Gali, Near Rajbandhu, Govindpura, Varanasi

Also read:- Best Hill Station Cafes In India
Malaiyyo wala
Malaiyyo is a seasonal dessert of Varanasi. It is also known as the Makhan Malaiyyo or Nimish and is available only during the winter season. It is a must-try dessert when in Varanasi. The shop is famous for its milk treats that are served in kulhads with the garnishing of pistachios and saffron.
Malaiyyo is a sweet dish that has the influence of Persian cuisine. Milk is churned slowly which gives it a creamy texture. It is then flavored using saffron and cardamoms and is served with a garnishing of pistachios and almonds. The Malaiyyo is mostly served with kulchas. The dessert is not found anywhere else in the country. It is a signature dish of Banaras.
Address: Neelkanth and Kachori Gali
Chachi ki Kachori, Lanka
The place is popularly known by the name of Chachi Ki Dhukhan. They serve delicious hot and spicy kachori sabzi and jalebis. The shop attracts the college crowd as it is located near the Banaras Hindu University gate on the mall road. Earlier, the shop was run by an old lady but it is now handed over to her sons when she passed away.
Address: Sankat Mochan Rd, Saket Nagar Colony, Lanka, Varanasi
Pizzeria Vatika, Assi Ghat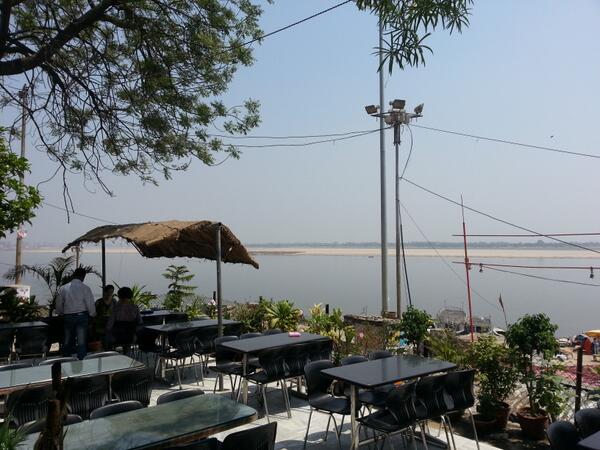 Pizzeria Vatika is an adorable cafe by the riverside in Varanasi. They serve delightful pizzas with amazing coolers. This Italian cafe is located on the Assi Ghat. They have a terrace garden that overlooks the river, Ganga. The view looks absolutely beautiful from the cafe. Some of their popular dishes include the wood fire over pizzas, scrumptious apple pie with ice cream and many more.
Address: B-1/178, Assi Ghat Rd, Shivala, Varanasi
Kashi Chat Bhandar, Godowlia Chowk
The Kashi Chat Bhandar is located on the Godowlia Chowk very popular for its chaat in Banaras. The delicious chaats in their menu include Dahi Chat, Tamatar Chat, and the Alu Chaat among a variety of chaats. If you're visiting the Sankat Mochan Temple, then do check out this chaat stall that is located right before the Hanuman temple. You must try all variety of chaats on their menu that they sell at reasonable rates. The food joint has a heavy rush all the time.
Address: D.37/49 Godowlia Road, Girja Ghar Chauraha, Badadev, Godowlia, Varanasi
Banarasiya Paan
Do try the Banarasiya paan when you visit Varanasi. They offer a variety of Paan with different flavors such as the Meetha Paan, Chocolate Paan, and many others. Paan is made of the beetle nut leaves with the Supari, lime and other condiments. It is eaten with tobacco or lime, whereas the Meetha Paan does not contain any tobacco or lime in it and consists of sweetened rose petals, fennel seeds, and soft supari.
Where: Rajendra Chaurasia Paan, Chowk Thana, and Deepak Tambul Bhandar, Dashashwamedh Ghat
Bread of Life bakery
Other than the street food of Varanasi, there is also a bakery that is famous here. They have an assortment of freshly baked cakes and bread. The bakery looks more like a cafe with comfortable seating arrangements and people come here to take a break from the hustle-bustle of the city. The bakery is also popular in the city for its Mediterranean and European cuisine. The bakery is also involved in doing charity work as they donate most of their profits to a charity.
Address: B-3/322, Shivala, Near Agrawal Radio, Sigra, Varanasi
Thousands of tourists from all over the world visit Varanasi throughout the year. With the introduction of the modern flavors and cuisines, the city's cuisine has transformed itself and has accommodated the newer flavors.

Also read:- From tasty street food to floating markets,8 Things You Must Do When In image source-Justdial, Magicpin , rajnishmishravns - WordPress.com , youtube , Taste of City Blog , twitter