Having a tattoo is one of the ways to express what you believe in. Tattoos stay with you forever and that is the reason why people want to pick the most rated tattoo artists who can help in getting a tattoo you won't regret later on. You will want to find a tattoo artist who can understand your needs and what ideas you have and then make something impressive for you. Worry not as we have prepared a list of the best tattoo artists in Delhi for you! They include the following:
Devilz Tattooz
Devilz Tattooz is a popular tattoo studio located in Greater Kailash - 1. This studio has some of the best tattoo artists. Each of them has their own styles whether it is detailing, realism, tribal, illustrative or completely new, they can do it all. The studio is popular for being creative and getting the perfect detailing done. Head down to this studio to check out their unique designs as they have a variety of designs to choose from.
The Devil'z Tattooz has a chain of studies in Delhi. It is especially known to have the best tattoo artists. India's only female tattoo artists, Ms. Shyamil Panda works there as well. The founder of the studio, Mr Lokesh Verma is also one of the first to start a tattoo place in India. Devil'z Tattooz has many celebrity clients as well which helped it to further establish its name in the capital.
Address of the shop: M-37, 2nd Floor, Greater Kailash 1, New Delhi
Contact Number: +911146792201
Mo Naga - Headhunters' Ink
Mo Naga is a famous tattoo artist from the beautiful Northeastern state of Nagaland. He currently works at a tattoo studio located in the Shahpur Jat market along with Godna Gram. Mo is popularly known for his specialization in the tribal designs, such as the tribal works from the Northeastern region of the country. He likes to interacts with the tribes of the North East and studies the origin of the traditional tattoos that the tribal people carry. He likes to then experiment with those designs.
Address of the shop: Shahpur Jat, New Delhi
Contact Number: +918471987090
Ali Burrni - Burrn'ink Studio
Ali has a popular tattoo studio located in Greater Kailash -1 and is known for the intricate tattoos such as a beautifully woven flower or dotted designs, his work is different and clean. Most of Ali's work is based on the concept of symmetry which we can see in all of his tattoos.
Address of the shop: C-201, Ground Floor, M Block Market, Behind Starbucks, Greater Kailash 1, New Delhi
Contact Number: +919911428546
Max - InkInn Tattoo Studio
Max has a really cool tattoo studio by the name InkInn located in the Defence Colony market. He is famous for creating black and grey tattoos. Whether you want some lettering, calligraphy or fonts then you should definitely visit his studio. Be it a quote you read somewhere, if you want to get it inked, Max is the go-to person. They also do black and grey portraits, cover-ups and modifications. At the InkInn, the tattoo artists are very much interested in the tribal tattoos and their history as well as body art and its origins. They will definitely help you in choosing a meaningful tattoo for yourself.
Address of the shop: 1497, 2nd Floor, Opp. P. T. College Bus Stop, South Extension 1, New Delhi
Contact Number: +919910236996
Manjeet Singh - Manjeet Tattooz
Manjeet Tattooz Studio is situated in West Delhi. It is increasingly becoming popular in the city. Manjeet Singh has been designing fresh and artistic tattoos that are very attractive. The man makes lovely colorful portraits and faces. He also likes to create images that have been inspired by the Sikh religion. He also uses colors in a phenomenal way and makes the tattoo look lively. He is an award-winning tattoo artist who has specialized in making tattoos such as realistic portraits, religious tattoos, and at the same time, he can design the tattoos as per the client preferences.
The Manjeet Tattooz Studio has a very strict policy that the customers have to be above the age of eighteen years and is known to keep up with the hygienic inking standards. Interestingly, he also teaches short term and long term courses for the upcoming tattoo artists.
Address of the shop: E-11, 1st Floor, Near Gurudwara Fateh Nagar, Janakpuri, New Delhi
Contact Number: +911146125604
Vikas Malani & Micky Malani - Body Canvas
Vikas and Micky are popularly known to create intricate tattoo designs. Whether it is old school or modern, they are the best at getting it done. The duo has even had a lot of celebrity clients. They have a tattoo studio by the name Body Canvas in Hauz Khas Village. Vikas is known to be excellent at linework, and dot-work whereas Mickey is good at getting the fineness, crispiness done.
Address of the shop: 13-A, Near Deer Park, Hauz Khas, New Delhi
Contact Number: +919819184454
Mike Cowasji - Mike's Body Art Studio
Mike's Body Art Studio is located in CR Park. The guy is popular for creating a design on paper and then putting it on your skin. If you are looking for a customized tattoo then this is the guy to contact.
Address of the shop: K-1/14, Ground Floor, Chittaranjan Park, New Delhi
Contact Number: +919811365578
Abhishek - N.A Tattoo Studio
The N.A Tattoo Studio is located in Karol Bagh. Whether it is a portrait or anything complicated, or a landscape tattoo, this is the best place to go to. You can easily get an appointment even through their Facebook page. The N.A Tattoo Studio is a perfect place to go if you want to get a color tattoo. They even make 3D tattoos. They never compromise with the safety of their clients and all the hygiene precautions are carefully taken. The pieces of equipment are sterilized and needles are disposed of properly after a single-use.
Address of the shop: 16-A, WEA, Karol Bagh, New Delhi
Contact Number: +918800878580
Monsters Ink
The Monsters Ink located in Gurgaon is popularly known for its detailed and intricate designs. The tattoo studio is owned by Nimz who creates these designs on his own. If you have a really nice tattoo idea in mind, he can easily put it on paper in a very aesthetic way that you'll love and cherish your tattoo forever. He is a master when it comes to detailed work. He is also famous for traditional tattoos and dotted work as well.
Address of the shop: Lane V-11, DLF Phase 3, Gurgaon
Contact Number: +919871514054
Devang - DNA Tattoos Art
Located in South Ex, the DNA Tattoos Art is owned by Devang who does amazing designs. Whether you are looking for shading, detailing or the old and new school or the Maori, tribal or the Japanese tattoo styles, Devang can do it all. He is a trustworthy guy and you will be satisfied to have your tattoo made by him and will be coming for more. When Hygiene is concerned, the studio keeps up with all the hygiene and safety precautions.
Address of the shop: N-1, Next To Canara Bank, South Extension 1, New Delhi
Contact Number: +919910244349

Also read:- Check out The Bro Code Beer if you are looking for an amazing High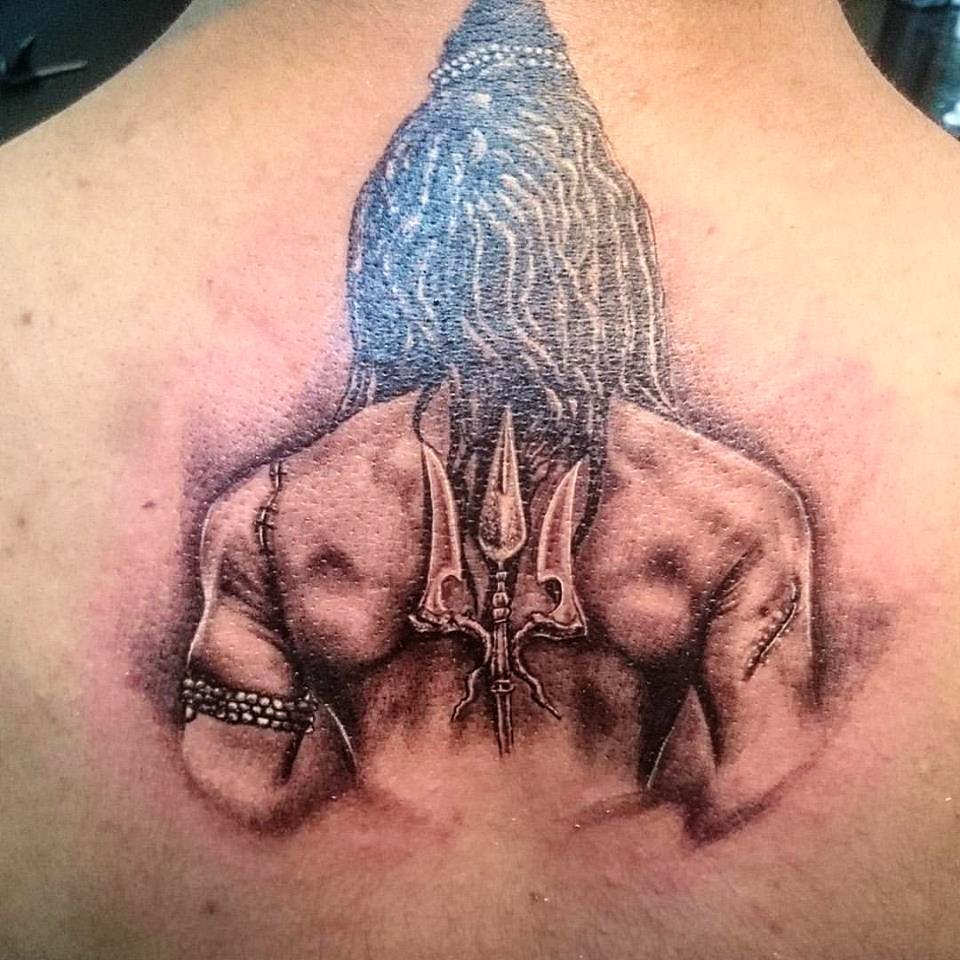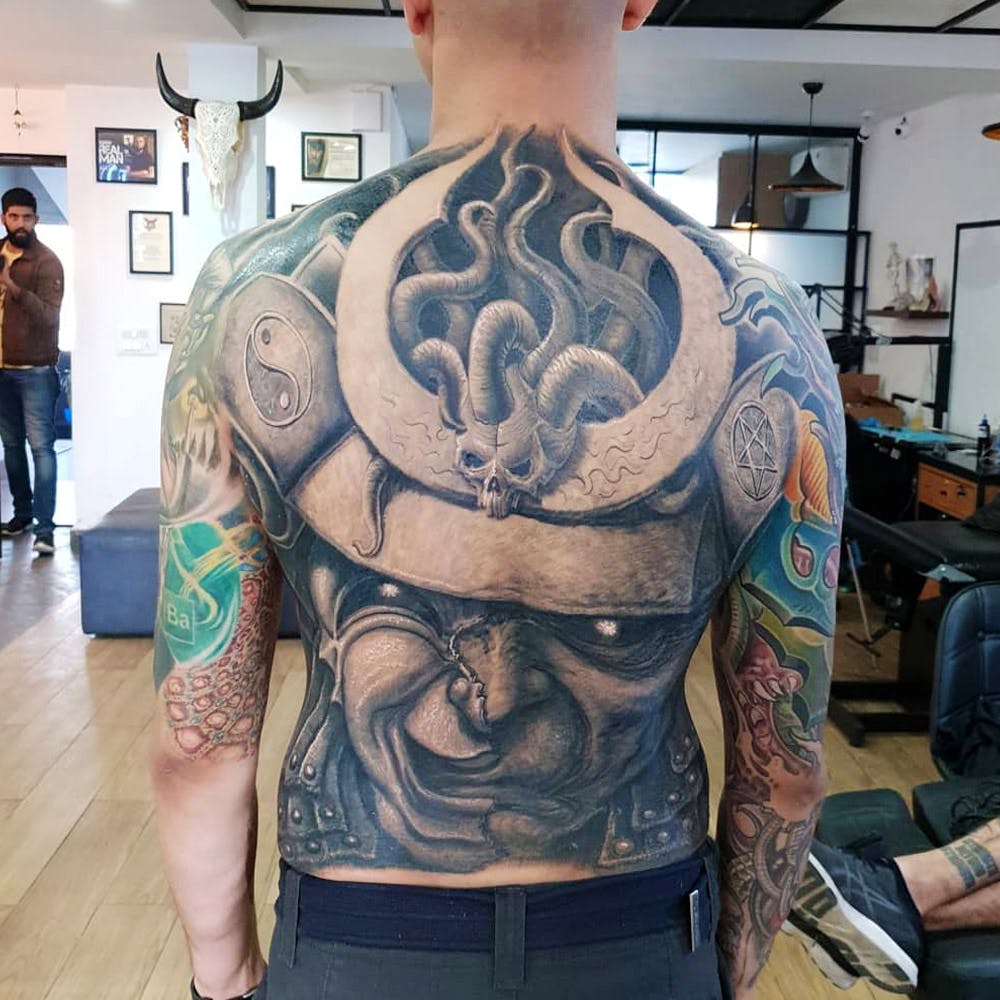 image source- sup delhi , tattoodo , LBB