Now Experience International Travel In India
Have you made a list of all the travel destinations you want to explore? From snowy mountains in Switzerland to floating markets in Bangkok, don't you want to experience every corner of this beautiful world? Well, we're here to let you know that you don't need to leave India for international experiences, We bring you the 15 best international travel experiences you can find in India. So you can enjoy similar world travel experiences or even more impressive than those you will find abroad. So replace these international destinations with our own destinations.
1. Get rid of the beaches of the Maldives next to Andaman Radhanagar Beach
The beaches of the Maldives have clear waters, soft white sand and an unparalleled calm halo. But why travel to the Maldives when the best Asian beach is in India? Radhanagar Beach, located on Havelock Island in Andaman, is recognized as the best beach in Asia and 16 best beaches in the world in choosing TripAdvisor's annual traveller for 2019. It contains everything and more than the beaches of the Maldives. This beach offers a picturesque sunset, an ideal place for a picnic, and of course the emerald blue waters. Andaman Radhanagar Beach gets brownie points on the shores of the Maldives, where you can still enjoy a quiet and secluded moment here, despite its popularity.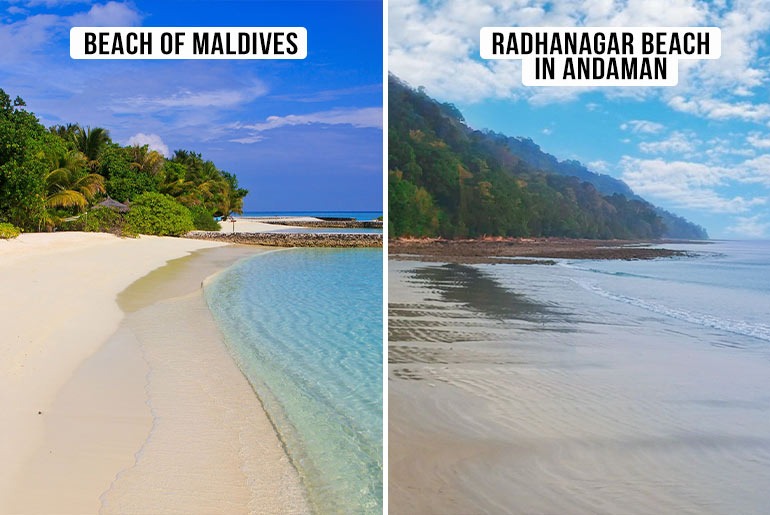 2. Replace the Amsterdam Tulip Gardens with the largest Tulip Garden in the world in Uttarakhand
When you think of tulips, you might think of Keukenhof Hof tulip in Amsterdam. Well, India now has the largest lavender garden in the world floating in the beautiful city of Munsiyari in the Himalayas of Uttarakhand. Amsterdam's Tulip Park covers 32 hectares. The Indian extends over 50 hectares of forest land in the Pithoragarh region. This tulip garden not only contains colorful tulips, but also beautiful flowers like Iris, lilium and daffodils In fact, this is one of the 16 best international travel experiences you can get in India.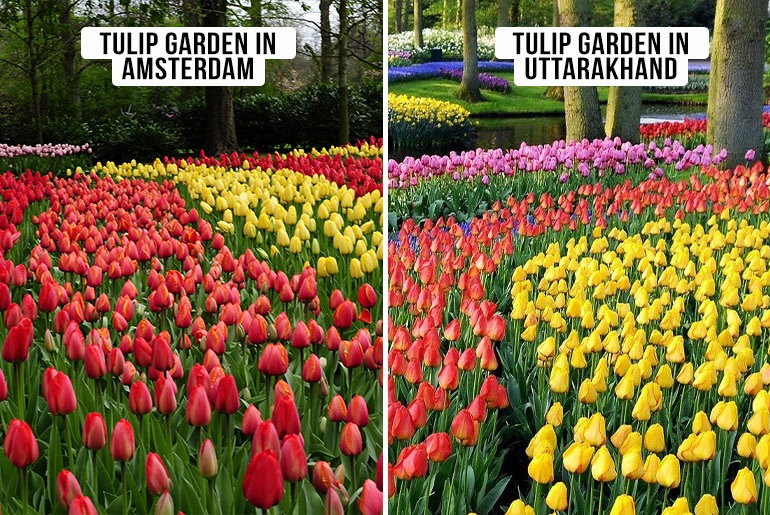 3. Give Jökulsárlón Lake in Iceland a slip and head to Gurudongmar Lake in Sikkim
If Iceland has Jökulsárlón Lake, India has Gurudongmar Lake in Sikkim. The scenic Gurudongmar Lake is 5,212 meters high, and it is one of the 15 highest lakes in the world. It is also the second highest level in India. If you compare it to Lake Jökulsárlón in Iceland, it will only be wonderful thanks to its icy nature. It is also believed to have curative properties. Tourists often carry lake water with them, as it is believed to be sacred.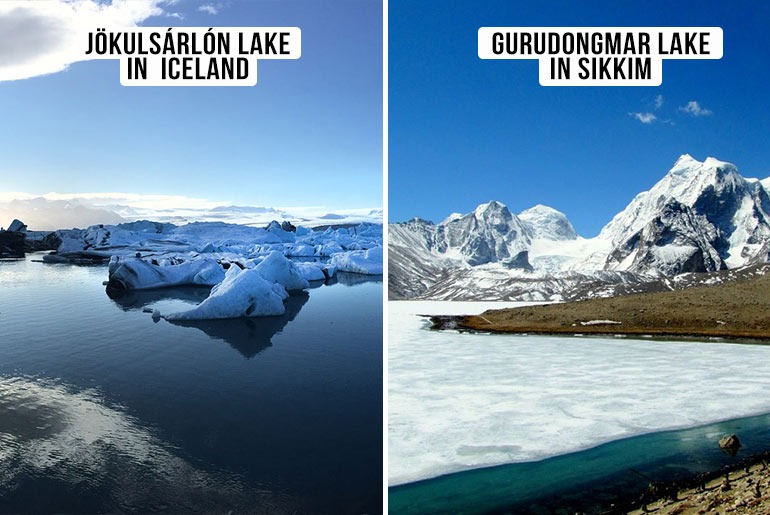 4. Farewell to the Grand Canyon in Arizona and welcome to Gandikota, Grand Canyon in India
Gandikota, the Grand Canyon in India can offer a serious competition to its Arizona counterpart because of its magnificent beauty. The best part of Gandikota, located in Andhra Pradesh, is that the city is not marketed, which means you will find fewer crowds of tourists and a peaceful environment without waste. The stunning Gandikota Strait was formed by the Pennar River that runs through the Erramala Hills. It has everything the Grand Canyon has to offer in Arizona. But it sprinkles the additional benefit of isolation as it is also known as Hidden Grand Canyon of India. Once you visit this place, its beauty will chase you.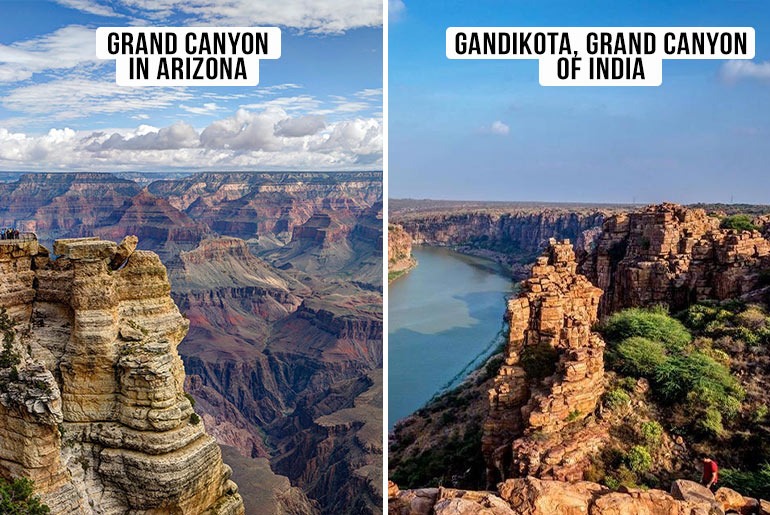 5. Replace Bangkok Floating Market with Srinagar Floating Market
If you compare the floating market pictures in Bangkok and the floating market in Srinagar, you will notice that there is almost no difference. The floating markets are great, they sell fresh produce on boats, and they are really the best in the world. In fact, the only difference you'll find is that Bangkok's floating market mainly sells fresh fruit, while Srinagar focuses on selling vegetables. The floating market on Dal Lake in Srinagar is full of boats, decorated with fresh produce, and is sold at sunrise from 5 in the morning until 7 in the morning.The Indian market is said to be almost a century old, and myths say the watermelon that grew here was so luxurious that the first harvest this year will be shipped to the Mughal rulers of Agra. Now who wouldn't want to visit this legendary floating market in Srinagar?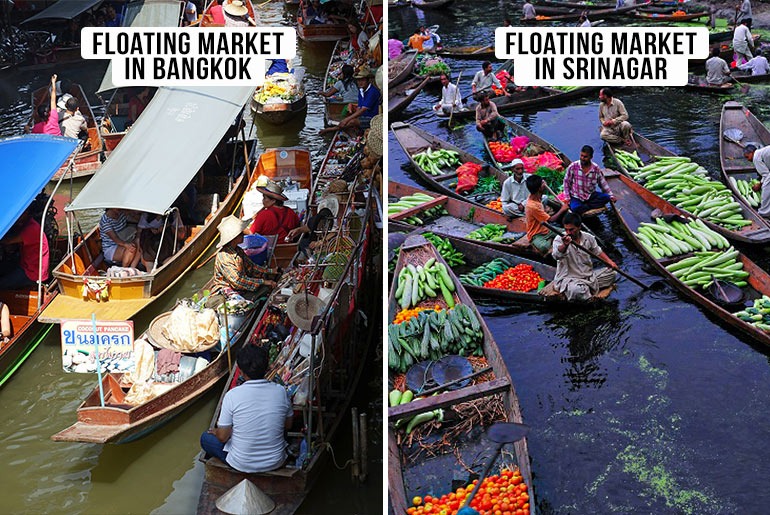 6. Forget about the Malaysian Boh tea plantations and visit Munnar tea plantations
We Indians cannot start or end our day without a cup of scented tea. So why would you venture into the Malaysian Boh Tea plantations while you head India in Munnar? With surprisingly similar lush green tea fields, sporadic forests home to endemic species such as wild goats Nilgiri Tahr and elephants, tea plantations in Munnar, Kerala, are truly an international experience you can get in our own India.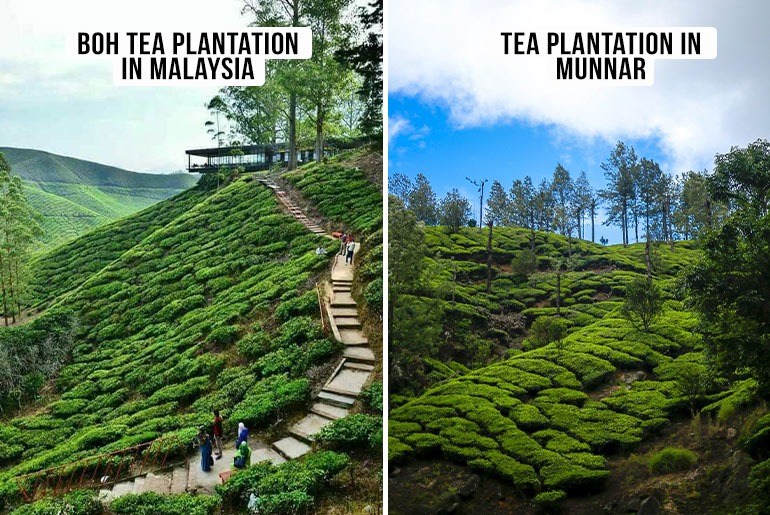 7. Find the ruins of Rome in Hampi
The ruins of Hampi in Karnataka are not only very similar to the ruins of Rome. It is also more beautiful and wonderful. The old city of Karnataka ranked second on the New York Times list of places to visit in 2019. Built along the banks of the Tongabhadra River, Hampi has two completely opposite sides, a UNESCO World Heritage Site on one side and Hebei Island on the other. Hampi was once the capital of the majestic Vijayanagar Empire of the year 1500 AD. It now includes its ruins. If the ruins of Rome had the famous Colosseum, Palatine Hill, and Arch of Constantine, Hampi has architectural wonders such as Sree Virupaksha Temple, Mount Matunga, and Elephant Stables, to name a few. So travel enthusiasts, if India has the second best place in the world to visit, then why even travel abroad, right?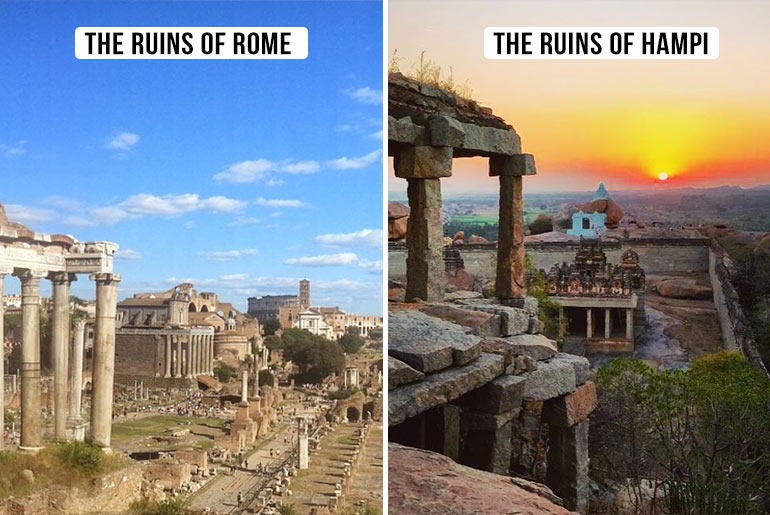 8. Sailing away from the canals of Venice and mooring in the pure waters of Alleppey
Forget the gondola rides in Venice and head south to experience the same quiet, impressive and calm boat in the backwaters of Alleppey in Kerala. Alleppey is officially named Alappuzha, overlooking the Lacada Sea. Alleppey is famous for its extensive network of canals lined with palm trees, blue back waters, and renewed Ayurvedic complexes. A floating yacht cruise is something to die for. Imagine you are staying in a comfortable little boat, as you gently move through stagnant waters, overlooking green rice paddies and tall coconut trees. So sail away from the Venice canals and dock in Venice from eastern India itself, Alleppey. It is one of 20 romantic honeymoon destinations in India


9. Give a miss to the Sahara desert in Africa and visit a revolting desert in Rajasthan
If you are confused about the idea of the Odyssey in the African desert, then why not surf in the sands of the desert of Thar, the largest desert in India! The Thar Desert, which stretches over 200,000 square kilometers, covers everything and more than its African counterpart. From surfing the sand, watching the gorgeous sunsets, camel rides, to the annual Jaisalmer Desert Festival, all this. You can watch beautiful folk dance performances with artists adorned with traditional jewelry and fashion. Indulge in delicious local food against the backdrop of the soft and expanded sand dunes of the Rajasthan Thar Desert.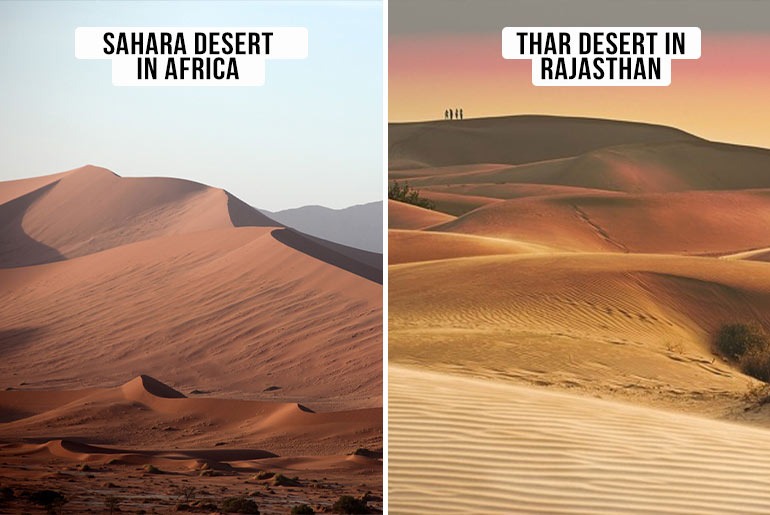 10. Splash Away from Niagara Falls in Canada and towards Chitrakoot Falls in Jagdalpur
The spectacular waterfall, winding currents, and stunning scenery make the Chitracoot Falls in Jagdalpur the most magnificent and largest waterfall in India. It is so beautiful that it is officially known as Niagara Falls in India. Look at pictures of Canada's Niagara Falls and Chitrakot Falls in Chattisgarh, and in one case you will know that India has a treasure trove of travel. It is located in the Vindhyachal mountain ranges. Chitrakoot Waterfalls have a 95-foot river below the cliff, giving you a great sight. This is without a doubt one of the best international travel experiences you can have in India.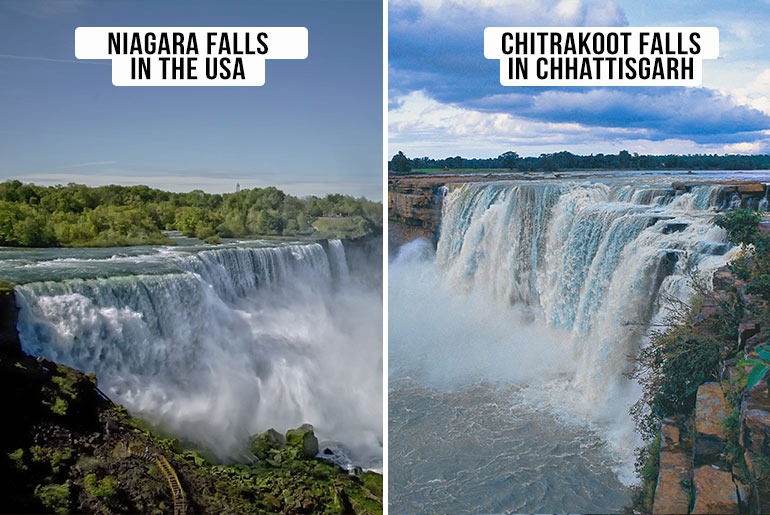 11. Replace French villages and welcome French colonies of Ponddicherry
If you want to bite on a delicate croissant while you are on a magical path full of old French houses, then why do you travel to France to do so? You can get all the look, smell and smell of France here in Pondicherry. Famous for the French capital of India, Pondicherry or Puducherry, it includes French neighborhoods. Charming yellow mustard homes, decorated with cozy cafes and elegant boutiques serving fine French cuisine and drinks, this is what Pondicherry is all about. Take a bike and bike through the streets of India in France and enjoy the allure of Pondicherry fairy tales .The boulevards, cliffs, authentic French bakeries, blue glass beaches and the experimental city of Auroville, without any concept of religion, politics or money; You will make sure that you do not really miss your trip to France where you can have anything and everything French in India. Here is a detailed travel guide from Mumbai to Pondicherry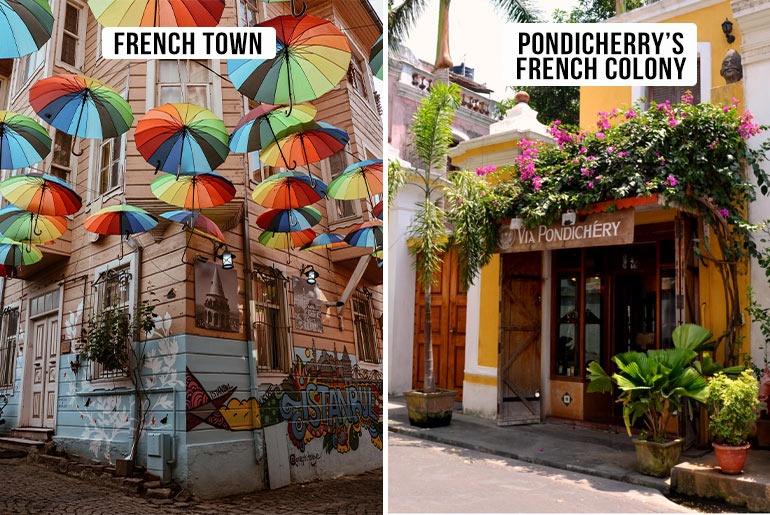 12. Forget about the mountains of Switzerland as they call it the Gulmarg Mountains
If Raj and Simran from DDLJ fall in love in the mountains of Switzerland, Bunny and Naina have all met in the snowy mountains of Gulmarg in Jammu and Kashmir. did not you get it? Well, Switzerland could be on the wish list of many Bollywood fans as films like DDLJ, Chandni and Sangam were shot there. But if that were the case, the beautiful snow-covered Gulmarg Mountains were the location for filming for famous Bollywood movies like Yeh Jawaani Hai Deewani, Haider and Jab Tak Hai Jaan. Gulmarg, which is about 52 km from Srinagar, is like any foreign destination. Snowy Peaks, Long Pine and Gulmarg Gondola, the longest and longest cable car project in Asia, give you many other reasons to leave the Swiss mountains for the glacier ice in Gulmarg in India.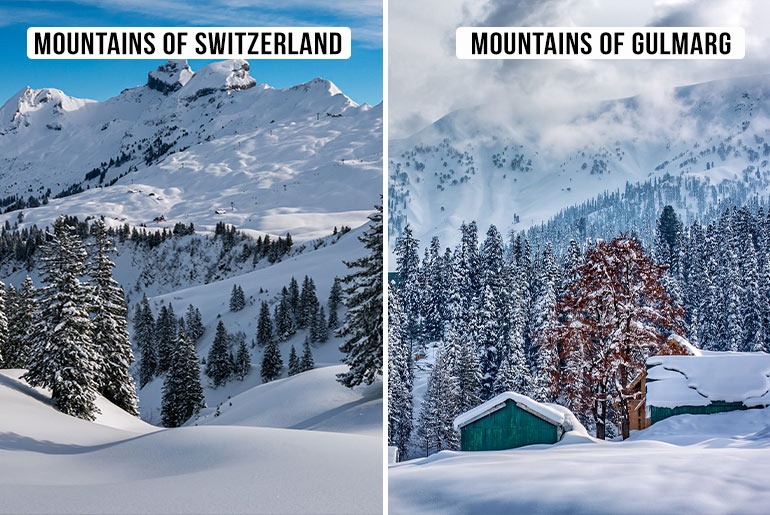 13. Find the perfume of French lavender fields in Provence on the Plateau Of Satara
Have you ever wanted to indulge in beautiful lavender fields in Provence, France? Well, we have news that is vibrant, fragrant, and great for you. You can get a first-hand experience of the same thing, without having to spend a fortune on a plane ticket to France. India has a Kaas Valley plateau in Satara in Maharashtra. During the months of September and October, the plateau is loaded with wildflowers. This looks like a rug of countless colors and fragrances. This beautiful tourist destination in India also became part of the UNESCO World Heritage in 2012.
The Plateau of Million Flowers in India contains countless small flowering plants covering the slopes and hills of lavender, yellow, pink, purple and even white leaves. It really looks like a rainbow on the ground.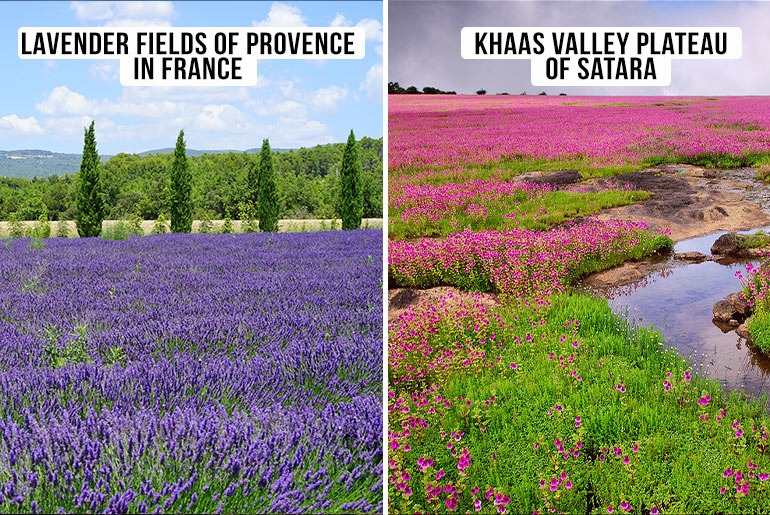 14. Walk away from the salty Uyuni flat surfaces in Bolivia and towards Rann de Kutch in Gujarat
Ran de Koch in Gujarat is like the alternative ego of Salar de Uyuni in Bolivia. Therefore, you should try the calm and serenity of Rann of Kutch in Gujarat before seeing his similarity in Bolivia. Now, while Ran de Koch is the largest saline desert in the world, Salar de Uyuni is the largest salt flat in the world. Do you see the similarities? In addition to the beautiful landscapes and swamps, Ranch of Koch has an edge over its counterpart. This is a compliment to the annual Rann of Kutch Festival, which literally dies for it! Vibrant dance performances, echoing traditional music and concert in the context of salty white marshes, are truly a sight to watch. And you will only get this in India. Have you ever explored this hidden market in Gujarati?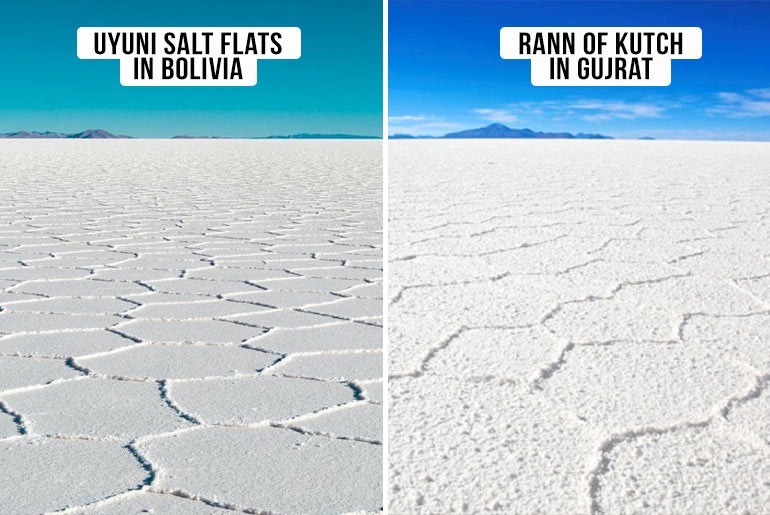 15. Replace the UK lake area and immerse yourself in the Emerald Lake in Uttarakhand
Emerald Lake in Uttarakhand is our response to the Lake District area in the UK. The first is famous for its rugged mountains and glacial lakes. The latter is known for its distinctive mango shape and medicinal benefits for human skin. Lake Dudetal or Emerald Lake in Nainital, surrounded by green lawns of Uttarakhand. The magic of the lake is located in the white flame that annexed the lake during the winter season. It is truly a residence for bird watchers, hikers and photographers. Those who can enjoy the beauty of the meadows, the Emerald Lake and the beauty surrounding the UK Lake District in Emerald Lake in Uttarakhand.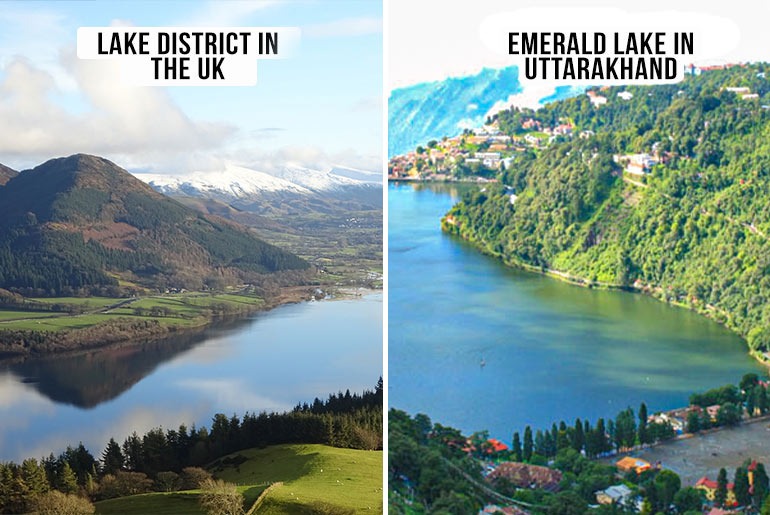 Here are the top 15 international travel experiences you should have in India. There is a reason why we live in wonderful India. So the next time you create a wish list, don't forget to go to #Vocalforlocal. After all, there is everything and more in India that you can try abroad.

Article souce : https://curlytales.com/top-international-travel-experiences-in-india/

Also read : https://ngtraveller.com/bali-is-open-to-tourism-in-october-/