Gulmarg Tourism: Best Places to Visit & Things to Do
Gulmarg truly lives up to its name Meadows of flowers. When you talk about Gulmarg, both summer and winter seasons are beautiful. During summers the valley is flocked up with day-trippers from Srinagar and tourists across the globe. The winter season attracts the ski enthusiasts. Gulmarg is better known as India's ski resort. Tourists who wish to see the beauty of Gulmarg either through eyes or cameras can plan any time to Gulmarg as any season is preferable to visit Gulmarg.
Best Time to Visit Gulmarg
Gulmarg is that holiday destination that is etched in the memory lane of tourists for many years. As I had mentioned earlier that Gulmarg is a year-round destination so one can plan to go Gulmarg at any point of time round the year. If you wish to ski and snowboarding then the best time will be from October to February. As during October, winter starts creeping and the wind becomes cooler. If you love snow then these months will give you a heavenly experience.


If you plan your visit from May to June, then you can see the beauty of Gulmarg in its natural version. This time is ideal for sightseeing and adventure activities in Gulmarg.

If you want to catch up with the attractive deals of the hotels at Gulmarg, then off-season during the months of July to September is best suited for you. As the monsoon starts during these months, you can enjoy walking through the meadows and it will be a visual treat for any tourists.
Travel options
If you wish to have air transportation, then Srinagar is the nearest airport, located at a distance of only 56 km. You can also try train routes the nearest railway station is Jammu which is located at a distance of 290 km. Gulmarg is well connected with bus services too. It has regular bus services from Srinagar, Sonmarg and other neighboring towns of Kashmir.
Best things to do and visit in Gulmarg
If you are planning for Gulmarg then here are the few attractions which would be worth seeing and will add to the incredible experiences of life.
Skiing
When you are in Gulmarg and not trying skiing, then it would be like committing a sin. Known as the best place for skiing in India. For beginners, there are three baby slopes, available with expert Ski instructors. If you are an expert in Skiing then, you must try the Aparwath Peak. This peak has smooth and steep gradients making it a perfect place for powder Skiing in India. Apart from skiing one can try snowboarding and sledding as well.
Gondola Ride
The Gulmarg Gondola ride is the World's highest cable car project. It is basically a two-tiered ride. In the first phase, the visitors are taken to Kongdori, which is situated at a height of 2600m; and in the second phase, the visitors are taken to an elevation of 3747m at Aparwath Peak. The view from Gulmarg Gondola is truly commendable as on a clear sky day one can even witness the magnificent Nanga Parbat as well.
Golfing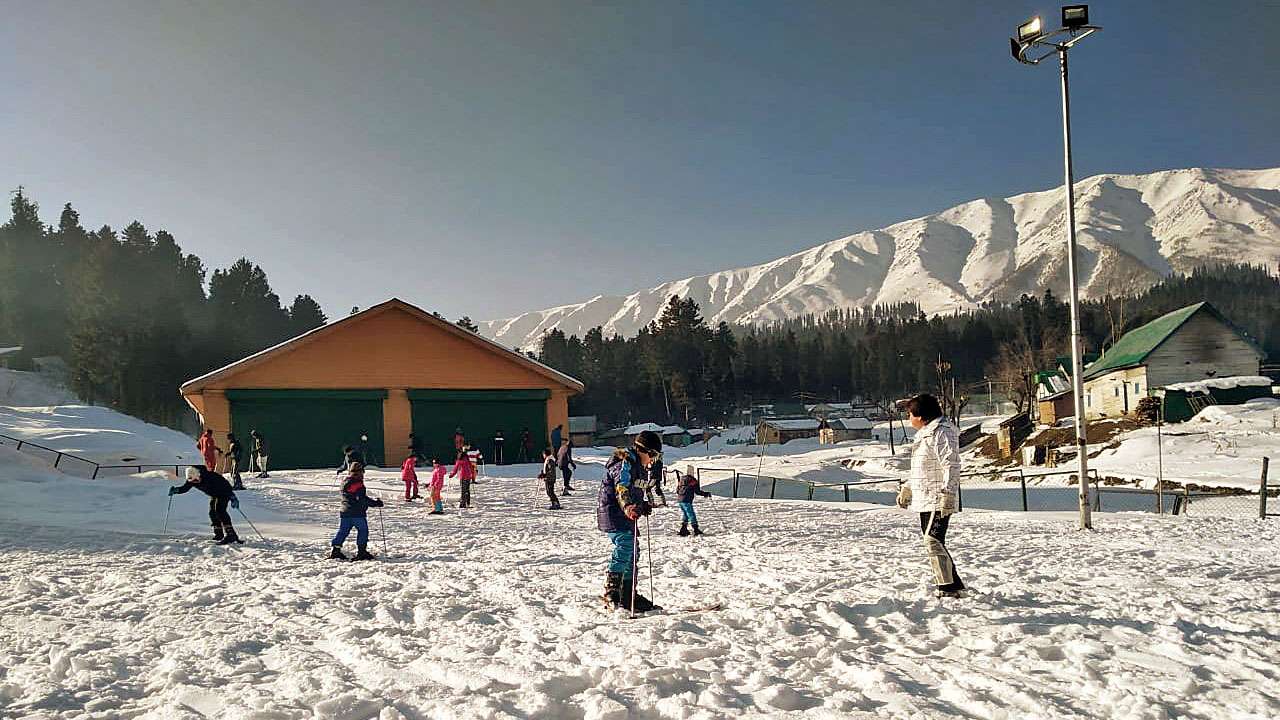 If you are visiting Gulmarg during summers, then you must try your hands for golf in Gulmarg. Gulmarg is having the world's second-highest golf course, which is situated at an altitude of 2650 meters.
It is an 18-hole golf course and is spread over an area of 7505yards. The golf course also has a 3-hole learning academy, where the novice can learn some tricks and tips. This golf course has a beautiful view, surrounded by lofty mountains and different varieties of flowers.
Khilanmarg
It is a miniature valley located at the 2000 feet above the ground. This is one of the beautiful places in Gulmarg. This place will give you the panoramic view of the tallest Himalayan peaks. This place is the perfect blend of natural beauty and adventure sports. Khilanmarg is a great place for offbeat travel enthusiasts as the place is not directly reachable on vehicles. One has to either walk from Gulmarg or take a pony to reach this place. During winters this place is served as hotshot destinations for ski lovers and during spring it is covered with aromatic flowers.
Alpather Lake
This lake is located
at the foot of the twin Apharwat peaks of Nun and Kun. It is located at a distance of 134 km from Gulmarg. During winters the lake frozen due to temperature. During winters ducks can be seen walking in the frozen lake and large chunks of ice float in the lake. During the summer season, the lake is surrounded by beautiful flowers and trees. Those who are in search of solitude, then they can have a heavenly feeling over there.
Maharani Temple
Dedicated to Lord Shiva, this temple is located in the middle of the Gulmarg. It was built by Queen Mohini Bai Sisodia, the wife of the erstwhile ruler of
Kashmir
, Maharaja Hari Singh and thus is named as Maharani Temple or Rani Temple. The interesting point to be mentioned here is that this temple has a Muslim priest performing rituals in the temple. This temple was built in the year 1915.
Ningle Nallah And Ferozepur Nallah: Gorgeous Mountain Streams
The duo of
Ningle Nallah and Ferozepur Nallah are the two mountain streams that flow through the lush green valleys. The green grass on the sides of the stream makes this place perfect for camping and picnic in the Gulmarg. This place is perfect for nature lovers who wish to get lost in the beauty of nature.
Gulmarg Biosphere Reserve
The Gulmarg Biosphere reserve is the home to numerous species of Flora, Fauna, and avifauna. This place is very famous among wildlife lovers. The green herbs in the sanctuary add to its scenic beauty. The endangered species of musk deer is the prime attraction of this reserve. The biosphere reserve is also a paradise for ornithologists. The area has a large population of indigenous and migratory birds including, inter alia, Griffon Vulture, Blue Rock Pigeon Monal, Snow Cock, Kashmir Roller, and Jungle Crow.
Timings:10:00am-4:00 pm
Conclusion
Known to be the best skiing destination of India, Gulmarg is an important part of Jammu and Kashmir. It is not only a hill station, but also a place to create your lifetime memories. Visiting Gulmarg will give you an opportunity of a visual treat to your eyes and it will give you peace of mind. Gulmarg is indeed a destination for all as it offers something for everyone.

Also read:- Enjoy a vacation at the Mini Maldives Near Kochi for an Underwater Stay For Just Rs 4,622/Night

image source- MICE India, TRIPNETRA